Fission and Fusion – Friends or Foes?
In support of Nuclear Week in Parliament, NUVIA will host a panel discussion about Fission and Fusion on 1st February 2023, in the Houses of Parliament. This event is sponsored by David Johnston MP for Wantage and Didcot, Oxfordshire.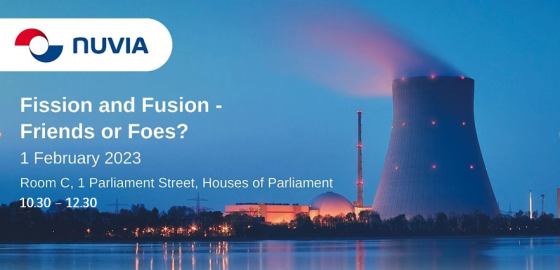 Background
Nuclear energy is a clean, reliable source of energy. It has the lowest lifecycle carbon footprint of any energy source – alongside wind – making it the most sustainable. But there are two, very different, forms of nuclear – fission and fusion.
Fission is the type of energy generated by today's nuclear reactors – there are around 440 of them globally – but it's widely recognised that Fusion energy will potentially play a significant role in the future of nuclear. Perhaps generating several times more energy than that produced today by Fission. Funding Fusion energy research could therefore be pivotal in achieving future energy security.
The discussion
This panel discussion will explore the way that both Fission and Fusion will play a vital part in potential net zero futures – stressing that Fission and Fusion are not to be seen as competitors for attention, favour or funding.
It will also look at the overlaps and connections between fission and fusion including some of the ways that jobs are being created around Harwell and Culham in Oxfordshire, but also elsewhere in the wider supply chain, generating a stronger economy.
Format: 60-minute panel discussion, 30-minute Q&A, 30 minutes of Networking.
Sponsored by David Johnston OBE, MP for the Wantage and Didcot constituency
Register for the event
To secure your place at the event, please
Please note that places at the event are limited.
NUVIA's work in Fusion Research
NUVIA has been active in the Fusion industry for over 30 years, supporting both UKAEA and ITER in their development of both the Joint European Torus (JET) and the ITER Tokomak.
From work designing vacuum vessels, access and control systems and remote handling systems through to de-tritiation systems, NUVIA has been at the forefront of the work to develop the fusion plants of the future.
More recently, in collaboration with Oxford Sigma, NUVIA has been researching materials that can co-exist with liquid lithium breeder blankets.
NUVIA continue to be active in the development of the STEP programme to develop the first net-energy tokomak to be built in the UK.