Airborne Geophysical Surveys
NUVIA Dynamics is a world leader in Airborne Geophysical Surveys and Instrumentation specializing in Airborne Magnetics, Radiometrics and helicopter borne Time Domain Electromagnetics. Our systems have been designed and certified to be used on a variety of fixed wing and rotary aircraft including the AS350 Series helicopters and Cessna 208/208B Grand Caravan. The Company's Geophysical Services Division offers a new level of innovation through Integrated Data Acquisition via combined NuTEM™ Electromagnetic, Magnetic, and/or Radiometric surveys.
We acquire data with our IMPAC – the leading airborne geophysical data acquisition system with precision navigation. IMPAC throughputs high-volume data from multiple data streams from specialized sensors. The NuTEM™ system records full waveform data allowing extraction of customized time windows in both early and late times. NUVIA Dynamics' magnetics platform is capable of 2 pT measurement giving us the unique ability to take full advantage of the high sensitivities of today's modem sensors. Similarly, our Advanced Gamma Ray Spectrometer (AGRS) system sets a standard for high resolution spectral mapping with 2048 channels from each on-board detector.
For more information on how NUVIA can help with your exploration projects, please contact us at info@nuvia-dynamics.com.
High Resolution Helicopter Surveys
NUVIA Dynamics' surveys incorporate initial survey design, planning, execution, and data processing with optional interpretative services. In-house geophysicists start with a review of the exploration challenge and any existing data to determine the optimum platform type and initial parameters. A survey design is then established using proprietary software. Following client approval, equipment is mobilized, and the airborne survey is launched.
Helicopter Survey Systems
NuTEMTM Time Domain Electromagnetic/Magnetometer system
Helicopter Magnetometer (Towed Bird or Stinger configuration)
Radiometrics with up to 33.6 Liters upwards and 8.4 liters upwards detector volume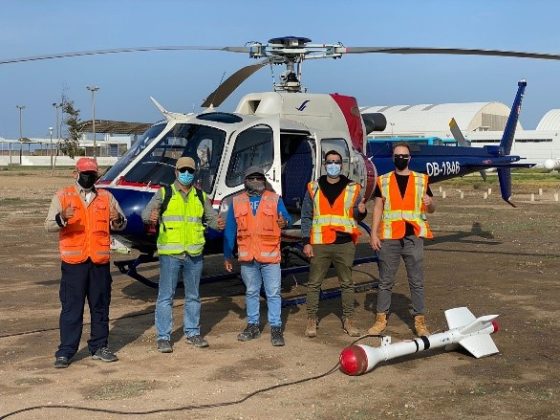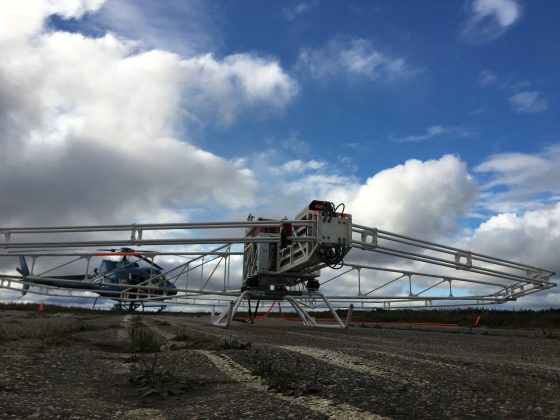 NuTEM™, our improved Time Domain Electromagnetic System can be utilised in deep exploration, geological mapping, and environmental applications. The system is typically flown with a high accuracy positional recording and a Cesium magnetometer to provide multiparameter information, all recorded with our industry leading IMPAC™ console.
Our NuTEM™ surveys provide you with the full waveform and high quality, low noise data. Our postprocessing allows to configure windows of interest to get the most out of the data.
Key system features

Powerful compact transmitter, self powered for easy installation
Lightweight and rigid aluminium hexagonal frame
Stable flight characteristics, even in rough terrain
Scalable to a wide range of helicopters
Stabilized three axes receiver (x,y,z)
Full waveform recorded data
User Selected Programmable windows
Low noise, Depth of Investigation >450m
Adjustable base frequency and sampling rate
System fully configurable
GPS on Helicopter and Transmitter Loop
Laser altimeter on Transmitter Loop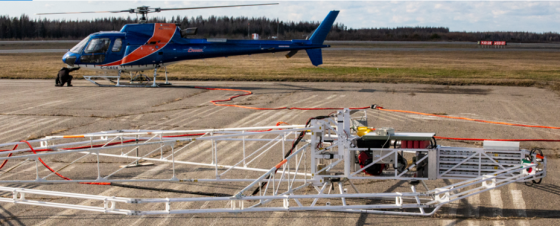 NuTEM™ (8.6m) footprint gives better spatial resolution, allows easy helipad and hangar storage and results in easy assembly and installation in crowded areas.
Deliverables
NUVIA Dynamics strives to provide the most comprehensive deliverables in the airborne surveying sector in the form of detailed reports, raw and processed data, and interpretations (if requested). We work to finish projects accurately and quickly so that you can start the next phase as soon as possible – whether you are drilling directly from the airborne data or implementing a follow-up ground survey. High-resolution results are presented in industry-standard formats so that you can easily integrate them with existing data.
If requested, we can also perform meaningful, comprehensive interpretations of all acquired data from Electromagnetics,Magnetics and Radiometrics. NuTEM™ data is a particular specialty based on our in-house knowledge of this proprietary technology. We also have advanced EM, Radiometrics and Magnetics targeting and modeling (for EM and Magnetics) available We feature Integrated Interpretation – a process that combines all relevant data to unlock added exploration value for our clients.
2021 Reid Mahaffy data with 3D inversion courtesy of TechnoImaging illustrating the superior depth extent (>450m) and resolution of the NuTEM™ airborne system.
About the Team
| | | |
| --- | --- | --- |
| Sandip GOSWAMI  | | CEO, Sandip has over 30 years of experience in geophysical industry and managed growth of multiple companies both in instrumentation and surveys. Sandip has an extensive international exposure and established operational excellence within culturally diverse environments. |
| | | |
| --- | --- | --- |
| Paul DALLEY  | | Senior Sales Manager with 32 years of experience in the Geophysical Instrumentation and Survey Industry. Focused on Customer Service, he has a proven track record of managing complex projects in North America, Asia, and Africa and understands the challenges and complexity of operating in difficult environments. |
| | | |
| --- | --- | --- |
| Kevin KILLIN  | | Principal Geophysicist, Kevin Killin has over 35 years of professional experience in the acquisition, processing and interpretation of airborne and ground geophysical data for a wide range of applications. Kevin has extensive experience in supervising and organising international projects in challenging environments.. |
Safety
At NUVIA Dynamics, safety is a top priority. We are a member of the International Airborne Geophysical Safety Association (IAGSA). All survey operations follow the IAGSA safety recommendations, and all survey systems and installations have Transport Canada Certification.